University of Wisconsin-Madison
Arts Institute Interdisciplinary Arts Residency Program
presents

April 7-11, 2008
Writer – Performer – Teacher – Activist
Since Juan Felipe Herrera began writing poetry, plays, and children's books, his work has been devoted to the politics and identity issues of immigration in the Latin@ and Chican@ communities. He is best known for his immensely popular books Super Cilantro Girl/La superniña del cilantro and Calling the Doves, which won the Ezra Jack Keats award in 1997. He is a poet, performer, writer, cartoonist, teacher, and activist who draws from real life experiences as well as years of education to inform his work.  His most recent book of poetry, from which he will perform on April 10, is 187 Reasons Mexicanos Can't Cross the Border. The UW-Madison Arts Institute and the Center for the Humanities are pleased to welcome this nationally-recognized artist to Madison.
Listen to Juan Felipe Herrera's 4/8/08 interview with Jean Feraca on Wisconsin Public Radios' Here on Earth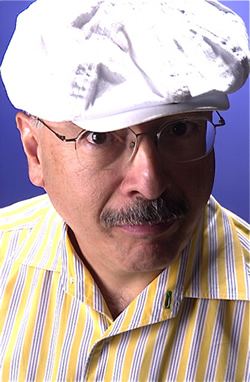 Schedule of Events
All events are free and open to the public
Wednesday, April 9,  3 p.m.
Humanities NOW Forum: 'Immigration and Memory'
6191 Helen C. White Hall | 600 N. Park St
Wednesday, April 9, 6 p.m.
Reading and book-signing: 187 Reasons Mexicanos Can't Cross the Border
A Room of One's Own
307 W. Johnson Street 608-257-7888
Thursday, April 10,  8 p.m.
Performance: 187 Reasons Mexicanos Can't Cross the Border, featuring Baba Israel
Hemsley Theatre in Vilas Hall
821 University Avenue
Information: Kate Hewson (608) 263-9290, kahewson@wisc.edu
Sponsored by the UW-Madison Arts Institute and Center for the Humanities in partnership with the departments of English, Communication Arts, Spanish and Portuguese, Theater and Drama, and Library and Information Studies, the Chican@ and Latin@ Studies Program, LACIS (Latin American Caribbean and Iberian Studies), and with the Madison Metropolitan School District.
Artist in Residence Home | Arts Institute | Arts on Campus | UW-Madison
© 2008 Board of Regents of the University of Wisconsin System