About Fred Ho
Interviews and Press
Asian Wisconzine article, "Fred Ho: Revolutionary warrior in life and music," by Laura Salinger, Aug 2008
77 Square interview, "Q&A with composer Fred Ho," by Lindsay Christians, Sep 22, 2008
Progressive Fred Ho radio interview by Matt Rothschild, Nov 3, 2008
Capital Hues article, "Revolutionarily speaking" by Jonathan Gramling, Nov 13, 2008
Here on Earth Fred Ho radio interview by Jean Feraca, Nov 17, 2008
Progressive Bill Mullen radio interview by Matt Rothschild, Nov 19, 2008
WORT Fred Ho and students radio interview by Jan Miyasaki, Nov 19, 2008
Wisconsin Week article, "Visiting artist's journey of collaboration, imagination" by Gwen Evans, Nov 19, 2008
An Introduction to the Music, Theater, and Ideas of Fred Ho: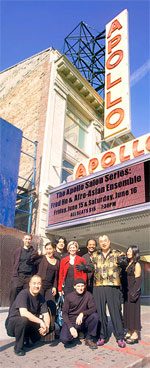 For Fred Ho, music, art, culture, politics, performance, and revolution are inextricably woven together. In a career that has evolved for over 35 years, he has created and sustained an ever expanding body of work in music, music theater, and multi-cultural performance. He is also a widely published writer and political activist. With fierce energy and a critical perspective, Fred Ho's art is dedicated to exploring the social and musical traditions and present realities of Asian Americans and African Americans. His work concentrates on themes of identity, lost and revised histories, ethnic and racial relationships, and the conflicting forces of power in a transnational, multicultural world. Relentlessly seeking meaningful connections, his music and writing engages the possibilities, and paradoxes, of pursuing an artistic synthesis aimed at transcending aesthetic, cultural, and institutional boundaries. Long recognized as a seminal figure in Chinese/Asian American music and the popular avant-garde, Fred Ho's work is as virtuosic as it is visionary, as dynamic as it is demanding. From his compelling baritone saxophone performances to extended musical compositions and original music theater productions, everything about Fred Ho is evocative, politically charged, and artistically committed.
Growing up in New England, Fred Ho came of age in the 1970s. His personal and artistic awareness were ignited by the legacies of the movements of the 1960s, particularly the Black Arts Movement and its fusions of poetry, music, and social and political activism. In a tribute to the BAM written in 2006, he remarks that
The black experience catalyzed my own self-awareness as a Chinese/Asian American. I came to identify with the black struggle in drawing parallels with my personal struggle for self-awareness and identity and for the struggle of Asian/yellow peoples as a whole in U.S. society to end racism, injustice, inequality, and to achieve self-respect, dignity, and liberation.
After graduating from Harvard with a B.A. in Sociology (1979), he began developing close relationships with Asian and African American political and musical communities on the West Coast, Boston, and New York City. He sought out artists with similar concerns and helped organize festivals and events that addressed the overly stereotyped and undervalued history of Asian Americans. In 1982, he founded the six member Afro Asian Music Ensemble, which became the core group for his music into the present. Performing with and founding/co-founding other jazz ensembles (including The Brooklyn Sax Quartet and The Monkey Orchestra) he produced acclaimed recordings and composed music for theater and new music groups. Dedicated to artistic freedom and recognizing the limitations of the mainstream music industry, he also formed his own company, Big Red Media, Inc.
Fred Ho's propulsive, kinetic baritone saxophone is the sonic force at the center of his compositions and collaborations. Whether performing solo or with his bands, or playing live with poets, singers, or, for the past decade, choreographed martial arts dancers, his sound is exuberant and passionate. It contains echoes of legendary saxophone players, Big Band jazz forces, hard bop power, and the excitable drive of experimentalism synthesized with Asian musical worlds. Intentionally rooted in provocative material, the very titles of his pieces — Turn Pain Into Power! (1991) Contradiction Please! The Revenge of Charlie Chan (1992), Yes Means Yes, No Means No, Whatever She Says, Wherever She Goes! (1998) — announce that the music is meant to be heard as a declaration of personal and collective expression and social commentary.
Asian musical forms, genres and narratives were integrated into Fred Ho's earlier compositions and theater work. Bound Feet (1985) focuses on the feudal Chinese practice of defining female beauty. Musically, it aimed at an intersection for Chinese American identity and an Afro Asian sensibility by blending Eastern non-tempered and Western tempered instruments with "jazz" harmonies. Bamboo That Snaps Back (1988) and A Chinaman's Chance (1989) were staged, theatrical productions that drew on Asian folk songs and documented historical events to dramatize the lives and working conditions of the Chinese, Japanese, and Filipino communities in America. Turning to epic storytelling, he adapted the classic Chinese novel, Wu Cheng'en's Monkey, in a series of ballet operas: Journey to the West (1990) and Journey Beyond the West: The New Adventures of Monkey (1997). Monkey is a trickster figure in the novel, but Fred Ho converts him into a wily, politically engaged, and outraged character. Monkey upsets the gods, befriends animals and fallen monks, and confronts despots and tyrannical regimes in heaven and on earth. Contrary to the idealizations of the myth, Ho's Monkey rejects immortality and sets off to fight for the people and incite a Revolution.
Monkey's journeys and adventures, played by The Monkey Orchestra and with sections sung in Chinese Mandarin dialect, were pioneering productions that represented firsts in Asian American multicultural and experimental, multimedia opera. Conceived as a 'living comic book' in performance, Monkey expanded the range of Fred Ho's aesthetic and theatrical imagination. Combining myth, folklore, fantasy, action-adventure, and political allegory, they were a preview of future large-scale, intermedia operas that incorporated themes, genres and images from popular cultural sources. In Ho's work to the present, samurai sword movies, manga comics, animations, and science fiction also become material for new work.
With training in martial arts (Ho was a former hand-to-hand combat specialist) and an understanding of its significance to both the Asian culture and African American inner city youth, Fred Ho and various collaborators next undertook the staging of extravagant "martial arts epics." These works featured original martial arts choreography, clever narrations, humor, and Ho's maturing compositional synthesis of styles, sound, and performance. The trilogy, Voice of the Dragon: Once Upon A Time in Chinese America (1998), Shaolin Secret Stories (2002), and Dragon vs Eagle: Enter the White Barbarians! (2008) relates the history of the martial arts from its origins. It is rich with allusions to Asian American political movements and a futuristic confrontation between mega-corporate overlords and freedom fighting gladiators. These productions, and later works with librettist and playwright Ruth Margraff, Night Vision: A New Third To First World Vampyre Opera (2000) and Deadly She-Wolf Assassin at Armageddon! (2006), further Fred Ho's mission to absorb current worldwide trends and transform them into serious, reflexive artistic performance.
Regardless of the cultural, mythic, or pulp references on display in his work, Fred Ho is profoundly concerned with deeper issues and presenting artistically creative and politically knowledgeable responses to them. There is, for example, a clear affirmation of feminism in his settings of poetry by Janice Mirikitani (Rockin' in Revolution/Drowning in the Yellow River (1984)). In a similar vein, his Home is Where the Violence Is (1992) is an examination of domestic violence. A large scale opera, written with Ann T. Greene, Warrior Sisters: The New Adventures of African and Asian Womyn Warriors (1991), creates musical portraits of legendary female fighters from Africa and Asia who reappear in modern America. Another elegantly strident multi-media performance work, Power to the People: The Black Panther Suite (2000), accentuates Fred Ho's relationship with the 1960s Black Power Movement and jazz innovators of the period. Performed with a video collage and martial arts dance, The Black Panther Suite is a musical essay on a historical moment and its lingering impact. As for the near future, his next production, written with poet and Miles Davis biographer Quincy Troupe, is Mr. Mystery: The Return of Sun Ra to Save Planet Earth! (2007). Meditating on sci-fi and global racial themes, it depicts visionary jazz musician, Sun Ra, leaving space, where he has roamed for decades, to save us from ourselves with his music and wisdom.
Fred Ho's music leaves no doubt as to his stance against racism, historical injustice, oppressive political and economic forces that threaten human life, and the fate of the earth. In his essays, poetry, other writings, and activism, he elaborates on his convictions and shows himself to be an indefatigable advocate for collective involvement and a revolutionary attitude. He also elucidates his progress as an artist dedicated to cross-cultural aesthetics and social transformation. For Fred Ho, music, creativity, imagination, and a committed political belief in art are absolutely necessary in order to change the conditions in the world and strive for human freedom.