EVENTS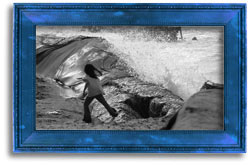 Judith Helfand Film Showing
September 27, 7:00 pm
Blue Vinyl with selections from the Peabody award-winning prequel A Healthy Baby Girl
With humor, chutzpah, and a piece of vinyl siding firmly in hand, filmmaker Judith Helfand and co-director and award-winning cinematographer Daniel Gold set out in search of the truth about polyvinyl chloride (PVC), America's most popular plastic.
Sundance Cinemas Madison, Hilldale Mall, 430 N. Midvale Blvd, 608-316-6900
Free and open to the public
Sarita Siegel Film Showing
October 11, 7:00 pm
The Disenchanted Forest, with The Beloved
Sarita Siegel takes audiences deep into the Bornean rainforest to follow the rehabilitation of ex-captive orangutans and contemplate the fluid boundaries between domestic and wild, human and animal, and nature and culture.
Madison Museum of Contemporary Art, 227 State Street, 608-257-0158
Free and open to the public
Tales from Planet Earth Film Festival
Madison, WI — November 2-4, 2007
A journey across the globe into how stories told through film shape our understanding of nature and inspire action on behalf of environmental justice and the diversity of life.
Friday, NovEMBER 2, 7:45 PM
Everything's Cool, Directed by Daniel Gold and Judith Helfand
Orpheum Theater, 216 State Street
5:30-6:30 Reception
6:30-7:45 Bill McKibben, The Nature of Hope, Humanities without Boundaries Lecture
9:30 Q&A with McKibben, Helfand, and Gold
SATURDAY, NOVEMBER 3, 7:00 PM
Fire, Burn, Babylon, A work-in-progress by Sarita Siegel

UW Cinematheque, 4070 Vilas Hall, 821 University Avenue
9:00 Reception, with the Handphibians at the Orpheum
Free, Donations Welcome
For more information, please visit www.nelson.wisc.edu/tales.