Residency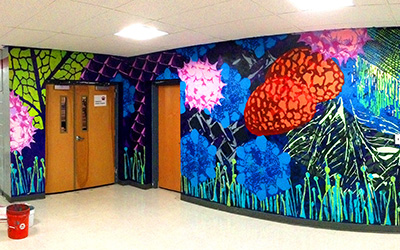 The University of Wisconsin–Madison Arts Institute, Departments of Biological Systems Engineering, Art, Design Studies and Physics welcome bioinspired artist Peter Krsko as the Spring 2017 Interdisciplinary Artist in Residence.
The residency is focused on bioinspired materials, structures and systems. Krsko will focus on interaction with students, project-oriented learning that will lead to development of new and original artwork and utilizing the artwork to further promote the topic to the general public.
The goal of this residency is to develop novel concepts, methods and materials in order to create new artwork, and more importantly, advance new bioinspired solutions to current societal challenges. Krsko will focus on student interaction, project-oriented learning and the development of new original artwork. This artwork will be exhibited and published in an online resource, with the goal of continuing to educate the public about bioinspired systems after the residency's conclusion.
Community Partners:
Peter Krsko's residency is presented by the UW-Madison Arts Institute and hosted by the Department of Biological Systems Engineering, with Sundaram Gunasekaran as lead faculty. Co-sponsors include the Departments of Art, Design Studies and Physics.
The UW-Madison Arts Institute has hosted world-class artists in residence since 1995 and formally launched the Interdisciplinary Arts Residency Program (IARP) in 1999. The IARP is made possible by funding from the university's Office of the Provost.
Guest Artists



Katie Schofield combines traditional crocheting techniques with new material and hyperbolic geometries. The resulting sculptures share many similarities with sea coral, especially the large surface area to volume ratio. The corals, as organisms residing on the sea bottom, intake nutrients by filtering their environment. The more water they can filter through their bodies, the more nutrients they obtain.

Schofield explores unique ways to maximize the surface area of her pieces by group assemblies of hyperbolic shapes. Working with Schofield, the students will stretch their mathematical imagination literally into new dimensions.

Dan Steinhilber is a sculptor, whose original approach to utilizing new sculptural material has been widely noted. His recent research and development in areas of robotics and mechanical systems is inspired by soft body organisms, such as jellyfish or unicellular organism. His artwork explores very similar approaches in order to reach new definition of shape and volume, whether static or dynamic.

Besides transforming two-dimensional shapes into three-dimensional objects, the students through Steinhilber's lessons will also get a chance to investigate fluid mechanics, pressure gradients and how a system in equilibrium results in a mechanical movement.



Announcements
Click here to view photos from the final residency event, "Zoethica" exhibition opening at Olbrich Botanical Gardens. You can view photo albums from Peter's entire residency on SmugMug by clicking here.
Two additional events in May 2017 have been added to Peter's roster for this residency! Explore our Events page for details.
A Peter Krsko installation exploring the geometry of the boundaries between flexible cells in space is now up in the Discovery Building, through May 8, 2017. Click here to view a photo of the piece.
Peter Krsko has created a site-specific installation at Birge Hall on campus, which will remain up through the end of the spring 2017 semester. Click here to view a photo of the install!
To recognize the visual and exploratory value of scientific imagery, the seventh annual Cool Science Image Contest is soliciting the best images from members of the UW-Madison community. Deadline: March 3, 2017
Images courtesy of the artist.