UW-Madison Course with Meeta Mastani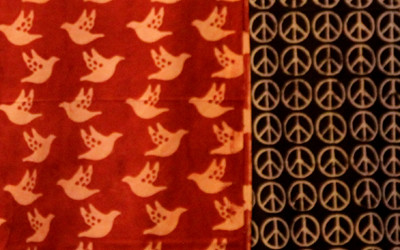 Course: Art/Art History/Design Studies 469 - Interdisciplinary Studies in the Arts
Title: Tactile Textiles - From 2D to 3D
Day/Time: Mondays/Wednesdays, 1:45 - 4:15 pm
Location: Papermaking Lab, Art Lofts
Credits: 3
Limit: 15
Watch a video on the course here.

Description: The course provides an artist's perspective on the histories of ancient craft traditions in South Asia. It instructs and guides students in expressing themselves in the area of social and cultural symbols on textiles and paper using sustainable natural materials. It also trains them in the art of painting, printing and dyeing in non-toxic colors. Art studios use chemical colors that are extremely hazardous both to the individual and the environment. Training the students in the art of painting/printing with natural colors will be a highlight of this program, intended to teach skills that will be valuable in their later individual practice. This course also provides them with information about the South Asian and global artistry of draping – whether on the human body, in architectural settings, performance settings, or vast environments. It will end with a show of draped printed/ painted surfaces (whether textiles and/or paper). These materials will embody the individual cultural/ political/ philosophical/ decorative expressions of the students taking the course. A final collaborative project is being planned to transform a public space or performance. Finally the course prepares the students to be global citizens by exposing them to the possibilities of promoting, disseminating, and sharing their creativity in sustainable, socially engaged, collaborative artistic work in their future careers.
If you have any questions about the course, please contact Henry Drewal, lead faculty, at hjdrewal@wisc.edu or Emily Lewis, Interdisciplinary Arts Residency Program Coordinator, at emily.lewis@wisc.edu.