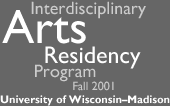 Tony Buba is one of the most unique voices working in American independent filmmaking today. With humor, compassion, and a complete dedication to the working-class heroes of his hometown of Braddock, Pennsylvania, Buba has created a body of work which documents the rise and fall of a steel town with unblinking accuracy. "David Lynch goes into neighborhoods and finds the germs and bugs beneath," Buba explained, "I go into neighborhoods and find the life." Growing up in Braddock and witnessing its decline first hand has taught Buba that there are no quick fixes for the problems he examines. "I get a lot of attention in Braddock," Buba said, "but people who are doing community work day after day, keeping the community alive, get none." Buba tries to correct this problem, one film at a time, by listening to those in his community who have important stories to tell–and for Buba that means everybody.
Buba has made over twenty films exploring working-class issues in and around his hometown since 1974. Buba began his career with "The Braddock Chronicles," a dozen short documentary portraits of the stubborn signs of life in a dying milltown. Buba's work has been showcased in one-person shows at The Museum of Modern Art, the Whitney Museum of American Art, The Carnegie Museum of Art and more than 100 museums and universities. His awards include fellowships from the NEA, AFI, and the Rockefeller and Guggenheim Foundations, and grants from the Pennsylvania Humanities Council.
In the Fall of 2001, Buba will be in residence at the University of Wisconsin-Madiso in the Communication Arts Department under the auspices of the Arts Institute Interdisciplinary Arts Residency Program. His residency, co-sponsored by the Creative Writing Program in the Department of English, the School of Journalism and Mass Communication, and Wisconsin Public Television, will involve interdisciplinary filmmaking courses, a master class for producers at Wisconsin Public Television, and public screenings and discussions of his films co-sponsored by local labor groups.