Residency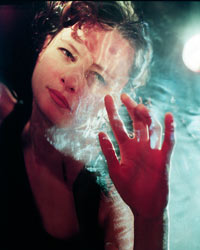 Helen Paris in "Family Hold Back." Photo by Hugo Glendinning.
The Arts Institute welcomes Helen Paris and Leslie Hill as fall 2010 Interdisciplinary Artists in Residence. Paris and Hill have been working together as Curious since 1996. Their work, which ranges from live performance to filmmaking, has been performed and exhibited widely in the UK and internationally, with live performances touring to 16 countries.
Paris and Hill ask questions, seek connections and offer new insights into the world around them. On the Scent (2003) explored the connections between the sense of smell and memory; Essences of London (2004) saw the creation of a portrait of London through the sense of smell; Smoking Gun and Family Hold Back (2004) explored the "special relationship" between the US and UK and asked if we are hard-wired for destruction. Lost & Found (2005) asked what was lost and what was found for people living in regeneration areas, focusing on London and Shanghai; and (be)longing (2007) explored longing and belonging as experienced by girls and women trafficked into the UK.
In their current work, Paris & Hill explore how working with and from 'gut feelings' can be a rich seed bed for performance practice and performance pedagogy. Through mapping the biological, instinctive, primal, and sensory nature of gut feelings onto performance practice, the project interrogates the ephemeral nature of performance and the creative process using some of the empirical tools and biomarkers of science while honoring the principality of the sensory and the personal.
While in residence, Paris & Hill are teaching 'Autobiology,' a studio class investigating the connections between biology and biography in performance making. They will also present "Inside Story," a weekend of performances, films, installations, papers, seminars, and workshops featuring Paris & Hill, their students, and guest speakers and artists.
This residency is sponsored by the Art Department in collaboration with the Dance Department, the Department of Theatre and Drama, the Center for Visual Culture, and the Center for the Humanities.