About the Artist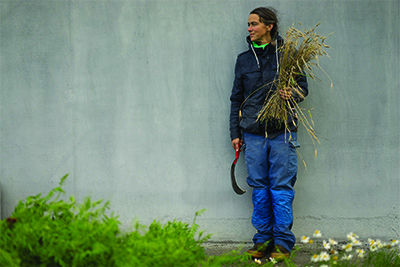 Amy Franceschini is a social artist and designer who facilitates encounters and encourages exchanges and tactile inquiry through temporary and permanent public art. An overarching theme in her work is a perceived conflict between nature and culture and the contradictions inherent in this divide. Her projects challenge systems of exchange and the tools we use to hunt and gather. They allow an audience to not only imagine but also participate in and initiate change in the places we live.
Amy received her BFA from San Francisco State University in photography and her MFA from Stanford University. She has taught in the visual arts graduate programs at California College of the Arts in San Francisco and Stanford University. Amy is the recipient of the Artadia, Cultural Innovation, Eureka Fellowship, Creative Capital, Guggenheim Fellowship and SFMOMA SECA Awards.
In 1995, Amy founded Futurefarmers, an international collective of artists, activists, researchers, farmers, scientists and architects working together to propose alternatives to the social, political and environmental organization of space. Their design studio serves as a platform to support art projects, an artist in residence program and their research interests. Futurefarmers uses various media to deconstruct systems of food, public transportation and education to visualize and understand their intrinsic logics. They have created temporary schools, books, bus tours and large-scale exhibitions internationally. In September 2015, Amy and Futurefarmers were announced as finalists for the prestigious Artes Mundi 7.
Futurefarmers' Flatbread Society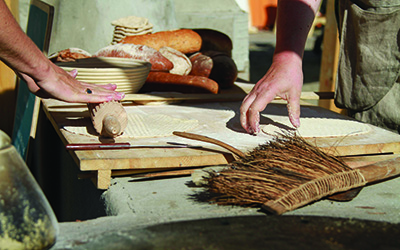 Futurefarmers' Flatbread Society is a permanent public art project created on a waterfront development in Oslo, Norway. Formed in 2012, Flatbread Society has resulted in the formation of an urban gardening community called Herligheten, a Declaration of Land Use and a permanent grain field and bakehouse. The group's dynamic activation of the site through public programs, a bakehouse and a cultivated grain field has attracted the imagination of farmers, bakers, oven builders, artists, activists, soil scientists and city officials. Flatbread Society has grown beyond Oslo into a network of projects and people that use grain as a starting point to examine food production, knowledge sharing, cultural development and socio-political formation.
Seed Journey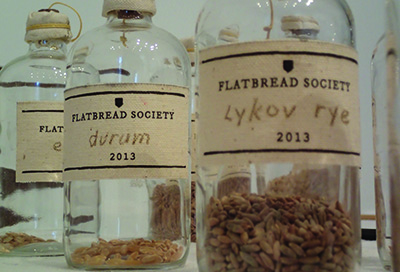 An outgrowth of Flatbread Society, Seed Journey is a seafaring voyage that moves people, ideas and seeds through time and space. This voyage of crew and cargo will transport varieties of unpatented ancient grains, recently discovered in Oslo, back to the Fertile Crescent, where agriculture originated. Various stops on the route will allow the travelers to meet leading actors of the food commons movement - anthropologists, artists, chefs, farmers, microbial ecologists and writers - to collect and exchange seeds and to rotate crew members. Actors from various stops can join a segment of the journey as it relates to their work, allowing for cross-pollination between movements and cultural exchange among the actors. At its final destination, Seed Journey will dismantle a boat and reassemble the parts into a permanent seed library and an open-air-theater titled Seed Theater.
Flatbread Society is part of the Slow Space public art program, a curatorial vision conceived by Claire Doherty and commissioned and produced by Bj

ørvika Utvikling in collaboration with the artists.



Resources + Media Mentions
Images courtesy of the artist.