About the Artist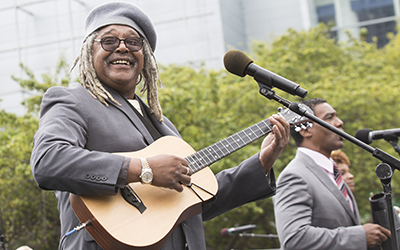 Grammy Award winner Juan de Marcos González is a central figure in Cuban music. His work with the Afro-Cuban All Stars, the Buena Vista Social Club, Ruben González, Ibrahim Ferrer, Sierra Maestra, and others has made an extraordinary contribution to raising the profile of Cuban music throughout the world.
Juan de Marcos was born in Havana in 1954 and grew up surrounded by music (his father, Marcos González, was a singer and played with the great Arsenio Rodríguez). He studied classical guitar at the Conservatorio Amadeo Roldán and tres guitar at Conservatorio Ignacio Cervantes—both in Havana, and privately with the great maestros Vicente González Rubiera and Leopoldina Núñez. He also studied contemporary harmony and orchestral conducting at Goldsmiths - University of London. Besides his musical studies, he has degrees in engineering (with a focus on hydraulic engineering) and Russian and English languages along with a doctorate degree in agronomical sciences.
In 1976, while studying engineering and music, he co-founded the group Sierra Maestra. Styled as a traditional Cuban septeto group (tres, trumpet, bass, percussion, and vocals), the dynamic young band's aim was to bring about an appreciation of Cuban son (musical and dance style) to the youth of the island. The band achieved great success and recorded fourteen albums in Cuba, Africa, and Europe, toured many countries, and received various awards.
In 1996, Juan de Marcos formed the The Afro-Cuban All Stars as a way to promote/celebrate the "golden age" of Cuban music from the 1950s. Their album "A toda Cuba le gusta" (Grammy Nominee '98) was the first to be recorded in the now famous Buena Vista Social Club sessions and Juan de Marcos proved to be a springboard for the success that came up. Following the album's release, Juan de Marcos led the Afro-Cuban All Stars and The Ruben González Ensemble on their debut European and U.S. tours and directed the Buena Vista Social Club at top performance venues worldwide including Amsterdam's Le Carré, New York's Carnegie Hall, and Mexico City's Auditorio Nacional.
His work has been nominated for multiple Grammy Awards and once for a Latin Billboard award, and his Afro-Cuban All Stars were voted "Best Beyond Band" by DownBeat magazine. During his career, Juan de Marcos has arranged, conducted, produced/co-produced, and/or performed on more than twenty-five albums, some of the albums, "Dundunbanza" (Sierra Maestra, 1994), "A toda Cuba le gusta" (Afro-Cuban All Stars, 1997), "Distinto, diferente" (Afro-cuban All Stars, 1999), "Introducing Ruben González" (Ruben González, 1997), "Buena Vista Social Club presents Ibrahim Ferrer" (Ibrahim Ferrer, 1999), and "Buena Vista Social Club" (1997), have been acclaimed as key cultural Cuban productions. In 2000, he was honored with his friend Nick Gold, Owner of World Circuit Records label, the first WOMEX (World Music Expo) Award in 2000.
Watch highlights from Juan de Marcos González's visit to Madison in February 2015.
Media Mentions
An 'all star' Cuban legend brings his music to Madison, Wisconsin State Journal, September 28, 2015


The Cuba connection, Isthmus, September 27, 2015


A Toda Madison le Gusta ... the Afro-Cuban All Stars!, Cultural Oyster, September 26, 2015


Afro-Cuban All Star Juan de Marcos González Begins Fall Arts Residency, Madison365, September 23, 2015


Q&A: Juan de Marcos González brings Cuban culture to Madison, The Cap Times, September 20, 2015


Afro-Cuban All Star Juan de Marcos González begins fall arts residency, Inside UW, September 17, 2015


El Son Cubano is Alive and Kicking, and Pellejo Seco Comes to Town to Prove It, CulturalOyster, September 11, 2015


Cuban musician González to lead UW-Madison residency, Wisconsin Gazette, September 10, 2015


"The Jazz Man", Our Lives magazine, September/October 2015 (PDF)


Artists' Work
Follow the links below to see samples of Juan de Marcos and other visiting artists' work on their personal websites, in video interviews, and in video performances.
Websites:
Interviews:
Performance Videos:
Photo credit: Tom Ehrlich